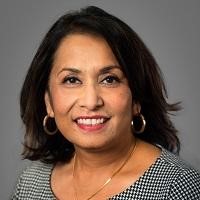 Dr. Sue Mukherjee is on a mission to change the way PR pros view data.
PR pros use data on a daily basis. Whether viewing a dashboard to determine the impact of a message, or gathering research to back up a client's position, PR pros must be able to find and decipher data and present it in ways that are understandable.
PR pros may have to use numbers, but they don't necessarily like them. That's what Mukherjee wants to change: She wants PR pros to LOVE data.
Mukherjee, Chief Strategy Officer & Senior Associate Provost at Shippensburg University, recently shared her vision of how PR pros should utilize data with the Pennsylvania Public Relations Society. She walked PR pros though the process of how to think about data and how to use data to find solutions. That included practical tips on determining what you want to say; what kind of chart or graph you need to convey the message; what numbers to use, and how they will be interpreted.
She also discussed ways to ensure data can be applied to everyday language.  
Some of her other tips included:
Visualize: Data should include more than numbers. It should include images, graphics or video.
Be Specific: Change adverbs in numbers
Humanize: Data should be used to inspire action through stories.
Stimulate Discussion: Data should build confidence, not demoralize.
Mukherjee also presented a number of charts and case studies, using colorful dashboards and graphics to present data in an understandable fashion. She also gave another piece of valuable advice: Don't drown in data. Use the numbers that are relevant to your problem or issue.
PR pros need to use data to show results. But they also need to use data to move people to take action. Only then will PR pros show data the love.